In honor of World Radio Day, February 13, 2023, radio station SAQ in Grimeton, Sweden, and amateur radio station SK6SAQ, are scheduled to be on the air to send out a peace message to the world, using the unique 1924 200 kW Alexanderson alternator on 17.2 kHz CW.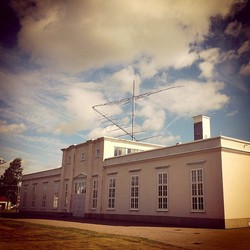 The Grimeton building site in Sweden, contains the Alexanderson alternator, which was built in 1924.
Test and tuning transmissions will begin approximately at 13:00 CET (12:00 UTC) and SAQ will be on the air for 20 – 30 minutes. Startup and tuning of the Alexanderson alternator will begin at 15:30 CET (14:30 UTC) and transmission of the peace message from SAQ will start at 16:00 CET (15:00 UTC).
SK6SAQ has picked a set of unique frequencies with a "connection" to SAQ's transmission frequency on 17.2 kHz, and will be QRV between 10:00 CET (09:00 UTC) and 17:00 CET (16:00 UTC) on the following frequencies:
3517.2 kHz CW
7017.2 kHz CW
14017.2 kHz CW
3755 kHz SSB
7140 kHz SSB
QSL cards will be available and there will be live coverage on YouTube.
For more information about the World Radio Day event and SAQ Grimeton visit their website.